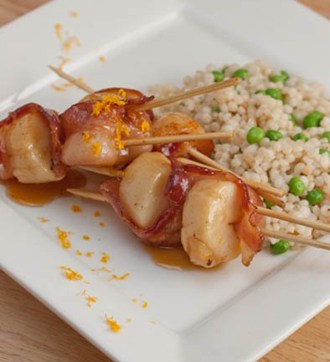 Ingredients:
12 bacon slices, cut in half
24 large sea scallops (about 2 pounds)
1 cup Michele Maple Crème Syrup
2 tablespoons butter, melted
1 teaspoon grated orange rind
3 tablespoons fresh orange juice
1/8 teaspoon salt
Directions:
Partially cook bacon in a large skillet. Wrap each scallop with 1 half slice bacon. Set aside. Bring syrup to a boil in a medium saucepan over medium-high heat. Cook, uncovered, until reduced to 2/3 cup (about 5 minutes). Remove from heat; stir in butter and next 3 ingredients. Thread bacon-wrapped scallops on 12 (10 to 12-inch) skewers; brush maple crème syrup mixture over kebabs. Coat food rack with cooking spray; place on grill over medium-high heat (350° to 400°). Place kebabs on rack; grill, covered with lid, 3 to 4 minutes on each side or until done, basting often.
Sweet & Spicy Strawberry Salsa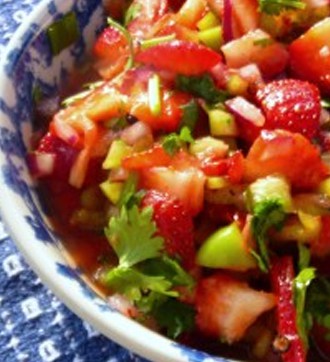 Ingredients:
About one (1) pint of fresh strawberries (hulled and sliced)
1 medium sized mild Italian pepper (or use a hotter variety – such as a jalapeno, poblano, etc. to 
kick-up the heat a notch)
3 heaping tablespoons chopped cilantro
3 tablespoons red onions, chopped fine
3 scallions, chopped fine
3 garlic cloves, minced
Juice of one lime
2 teaspoons Michele Honey Crème Syrup
Salt and pepper, to taste (I used sea salt and fresh cracked pepper)
Directions:
Prepare all the ingredients and combine in a large bowl. Cover tightly and refrigerate to chill.  Serve scooped with your favorite gluten-free chips or as a topping over grilled seafood/chicken/tofu.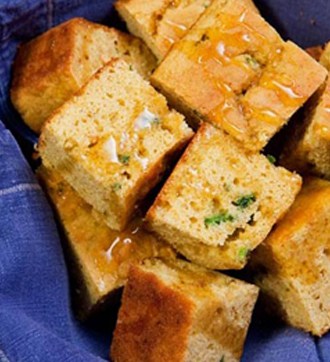 Ingredients:
1/4 cup butter, melted
1/4 cup unsweetened applesauce
1/4 cup sugar
1/4 cup Michele Honey Crème Syrup
2 jalapenos, seeded and thinly sliced
2 eggs
1 cup low-fat buttermilk
1 cup cornmeal
1 cup flour
1/2 teaspoon salt
1/2 teaspoon baking soda
Directions:
1. Preheat oven to 375 degrees. Spray an 8×8 or equivalent sized baking dish well with nonstick spray then set aside. In a large bowl, whisk together melted butter and applesauce. Add sugar and honey crème syrup then whisk to combine. Add jalapenos then whisk to combine. Add eggs and buttermilk then whisk to combine.
2. In a separate bowl, stir together cornmeal, flour, salt, and baking soda. Whisk into dry ingredients in two batches. Pour mixture into prepared baking dish then bake for 30-35 minutes, or until a toothpick inserted into the center comes out clean.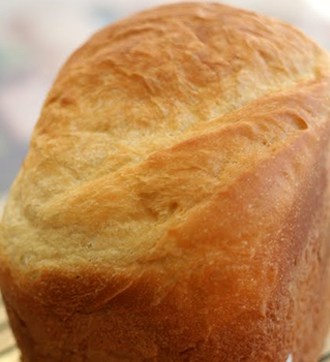 Ingredients:
2/3 cup warm water
1/3 cup Michele Honey Crème Syrup
2 tablespoons dry milk
1 tablespoon shortening
1-1/2 teaspoons active dry yeast
1 cup whole wheat flour
3/4 bread flour, approx.
Directions:
In medium bowl, mix together water, honey crème syrup, dry milk, shortening, and yeast. Stir in whole wheat flour.
2. Mix in bread flour, a quarter cup at a time, until dough pulls away from the bowl.
3. Turn dough out onto floured board and begin to knead for about 10 minutes or until smooth
4. Grease medium bowl. Put dough in bowl and turn so that the dough is greased on the top. Cover and let rise in warm place for about 45 minutes or until double in size.
5. Punch down dough. Turn out onto floured board and knead for about 5 minutes. Shape dough 
6. Grease loaf pan. Put loaf in pan, cover with clean cloth and allow to rise for about 30 minutes 
7. Bake at 350 degrees F for 35 minutes or until golden brown.
8. Remove loaf from pan and let cool on rack or clean cloth.