Pumpkin Pancakes with Maple Creme Syrup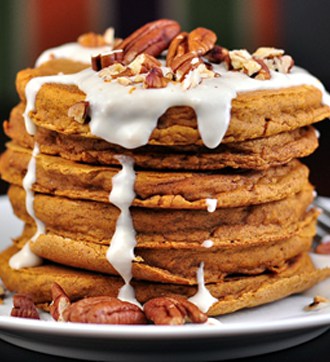 Ingredients:
• 1/2 cup whole wheat flour
• 1/2 cup all-purpose flour
• 3/4 tsp baking soda
• 1/4 tsp kosher salt
• 1 tbs ground cinnamon
• 1 tsp ground nutmeg
• 3 egg whites
• 3/4 cup canned 100% pure pumpkin puree
• 3/4 cup nonfat plain yogurt
• 2 tbs packed brown sugar
• 2 tsp vanilla extract
• (for the maple crème)
• 4 ounces reduced fat cream cheese, softened to room temperature
• 1/4 cup Michele Maple Crème syrup
• (for the topping)
• 3/4 cup pecans, roughly chopped and toasted
Directions:
1. In a large mixing bowl, whisk together the flours, baking soda, salt, cinnamon, and nutmeg until well combined. 
2. In a second large mixing bowl, whip the egg whites until blended. Add the pumpkin, yogurt, brown sugar, and vanilla extract, and whisk until combined. 
3. Pour the wet ingredients over the dry ingredients and stir together gently until just combined and smooth (no dry streaks should remain), taking care not to over mix. 
4. Liberally coat a large skillet or griddle with oil spray. preheat it over medium heat. When the pan is nice and hot (after about 2 minutes), ladle about 1/4 cup batter per pancake onto the 
surface. The batter will be thick, so it may help to spread it out with the back of a spoon. 
5. Cook the pancakes until they are golden brown, 2 to 3 minutes per side. Recoat the skillet with oil spray between batches to prevent the pancakes from sticking. 
6. While the pancakes are cooking, prepare the maple crème: In a small mixing bowl, whisk together the cream cheese and maple crème syrup until smooth. 
7. To serve, place 2 pancakes on each plate and top them with about 2 tablespoons of the maple crème. Sprinkle with about 2 tablespoons of the chopped pecans.
8. Note: To toast pecans, place them in a dry sauté pan over medium heat and toast, stirring or shaking the pan frequently, until they are lightly browned, about 5 minutes. Or, spread the nuts out on a toaster oven tray and toast for 3 to 4 minutes.