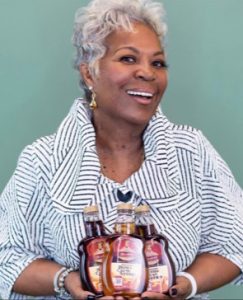 Sunday mornings at the Hoskins home began with a gathering and a tradition of delicious homemade waffles, a variety of breakfast meats and a special concoction of honey, cream and butter that was made just for the occasion. This secret syrup recipe was created by America Washington, a former slave, and the great, great, great grandmother of the only daughter in the household, Michele Hoskins. America Washington created the recipe in the 1800s as an alternative to molasses for her plantation owner's family.
In the early 1980's, this family delicacy was passed down to Michele from her mother and she continued the tradition by making it for her three (3) daughters and friends. "My mother inherited that secret recipe and when I married, it was given to me." The pancake syrup soon became the talk of the neighborhood. Its delicate honey taste and its rich, creamy consistency brought compliments from all that tasted it and ultimately requests for more!
Eventually times grew difficult for the Hoskins household. Michele was newly divorced and had children to support. She had a family secret recipe and a dream. It was then that she decided to turn this family recipe into a commercial product and bring it to market. She sold all her possessions, moved her daughters into her mother's attic and spent a number of lean years pursuing her dream. She made the syrups in a 55-gallon drum in her mother's basement, hand-filled the product into bottles and delivered them to local groceries in her neighborhood.
In 1984 Michele began to manufacture her specialty breakfast syrups and Michele Foods was born. That same year, Michele secured the top two largest retail chains in the Chicagoland area, which took her out of the basement and into 400 retail chains. She went on to become the 1st minority supplier for Denny's, the 1st minority supplier for Wal-Mart and over the years she has partnered with some of the most respected food companies in the world – General Mills and Sara Lee. It was Michele's determination to leave a legacy for her daughters instead of just a recipe that was the inspiration for Michele Foods.
Michele laughs when she recalls her early struggles and countless mistakes. She overcame incredible odds to turn this family secret into a formula for success. "There were no mentors for an African American female entrepreneur in the food industry in those days. I had to learn from my mistakes. Had I not been naïve, I may not have started this journey. All I had going for me was my goal and a commitment to making it work."
Today the products can be found in the top retail chains, more than 8,000 stores nationwide, including Kroger, Albertson's, Jewel Foods, Publix, Safeway and the like. The recipe that started it all is known as Michele's Honey Crème Syrup, a rich, creamy confection made with honey, cream and butter. Now, in addition to the original Honey Crème, there's Michele's Butter Pecan and Maple Crème Syrups. These days the syrups are more than just for waffles and pancakes, they are used by cooks as condiments and in sweet and savory dishes. This family tradition for over 4 generations is simply "good over everything"!