Fried Chicken With Pecan Honey Glaze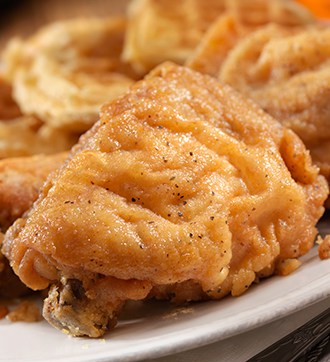 Ingredients:
• 1 (3 1/2-pounds) frying chicken, cut up, or your favorite chicken parts
• 2 large eggs
• Salt and pepper
• Garlic powder
• Vegetable shortening or vegetable oil
• 2 cups self-rising flour
• 1 cup (2 sticks) butter
• 1/2 cup Michele Honey Crème Syrup
• 1 cup coarsely chopped pecans
• Brown paper bag
Directions:
Rinse the chicken and pat it dry. Beat the eggs in a 9 by 13-inch dish. Lay the chicken pieces in the dish, and sprinkle with salt, pepper, and garlic powder. Turn the chicken and season the other side, then slosh the chicken parts around in the egg until well coated. Put enough shortening or oil in a cast iron pan or electric skillet to come just halfway up the sides of the chicken parts. Heat the shortening or oil just until smoking, about 375 degrees F. Put the flour in a paper bag, add the chicken pieces, a few at a time, and shake to coat well. Remove the chicken with tongs and place it in the hot fat. Cover the pan, leaving a crack for steam to escape, lower the heat to 325 degrees F for electric skillet, and cook for 10 minutes. Turn the chicken with tongs, cover again (leaving the lid open just a crack), and cook for 10 minutes longer. Very large pieces may need to be cooked a little longer. Drain the chicken on paper towels and transfer to a platter.
Honey Mustard Collard Greens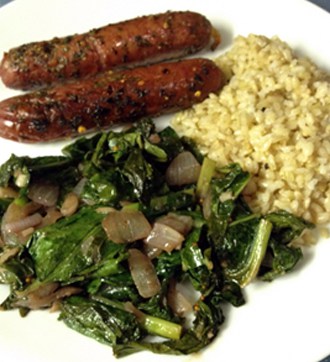 Ingredients:
4 cups collard greens, washed and chopped
2 tsp bacon grease
1/4 yellow onion, finely diced
1 garlic clove, minced
1 Tbsp. balsamic vinegar
1/2 cup red wine
2 tsp whole grain mustard
2 tsp Michele Honey Crème Syrup
Directions:
1. In a large skillet, melt bacon grease over low heat. Add garlic and onion, stir, and sauté for about five minutes, until fragrant and translucent. 
2. Deglaze pan with red wine, then add collard greens and balsamic vinegar. Stir continuously for about five minutes, until the greens begin to wilt and turn bright green. 
3. Add mustard and honey crème syrup, stir thoroughly to coat all the leaves, and remove from heat. Serve immediately. Serves 2. What looks like a huge pile of raw greens turns out to be just right for two people! Double or triple recipe as desired, but don't cook too much! These are best freshly cooked—leftover greens don't translate.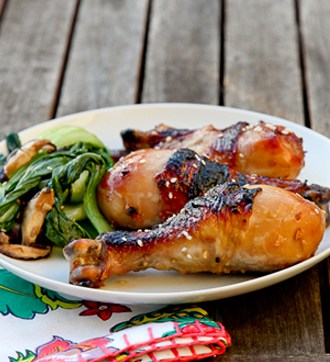 Honey soy sauce chicken
Ingredients:
• 6 chicken drumsticks
• 2 tablespoons Michele Honey Crème Syrup
• 3 tablespoons soy sauce
• 1 tablespoon garlic, minced (about 1-2 cloves)
• 1⁄2 tablespoon ginger, minced
• 1⁄2 teaspoon sesame seeds
Directions:
1. Combine the honey crème syrup, soy sauce, garlic, and ginger in a Ziploc bag. Add the chicken and seal, removing as much air as possible. Refrigerate to marinate for an hour.
2. Preheat oven to 425oF
3. Lay chicken on a parchment-lined baking sheet. Bake for 25-35 minutes, or until a thermometer inserted into the thickest part reads 160oF. Every 10 minutes, brush some of the remaining glaze on the drumsticks.
4. Turn on the broiler and boil the chicken for 3-5 minutes, until crispy. Top with a sprinkle of sesame seeds
Sesame Honey Chili Potatoes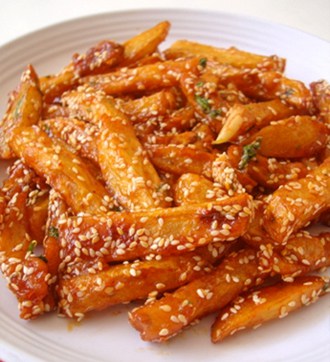 Ingredients:
3 potatoes, peeled and cut into fingers like for french fries
2 crushed garlic cloves
1 tsp red chili powder
2 tsps. tomato sauce
salt to taste
1 1/2 tbsps. oil
For sauce:
1 tbsp tomato sauce
1 tsp red chili sauce
2 tsps. vinegar
2 crushed garlic cloves
1 1/2 tbsps. Michele Honey Crème Syrup
1 tsp chopped coriander leaves (optional) or spring onion greens
1/2 tbsp oil
Directions:
1. Combine potato fingers, oil, red chili powder, tomato sauce, crushed garlic and salt and place in a zip lock bag and shake well. Grease a baking tray and spread the potato fingers on the tray and bake at 200 degrees C for 35-40 minutes You need to turn the potato fingers once during the baking process. OR you can deep fry the potato fingers to a golden brown shade. If deep frying add a tbsp of corn flour instead of oil to the potatoes and then deep fry. Remove onto absorbent paper and keep aside.
2. Heat a heavy bottomed vessel, add oil, add the crushed garlic and sauté on high flame for few seconds. Add the red chili paste, tomato sauce and vinegar and combine. Add the baked potatoes and toss for a minute on medium-high flame. Add the honey crème syrup and toss the contents till well combined. Turn off heat. Adjust salt if required.
3. Sprinkle toasted sesame seeds and garnish with spring onion greens or coriander leaves and combine. Serve warm as a starter/appetizer.
Grilled Salmon with Michele Maple Creme Syrup Recipe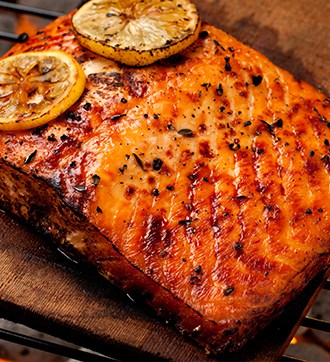 Ingredients:
1 pound salmon fillet 
Sea salt and freshly ground pepper
3 tablespoons Michele Maple Crème Syrup
2 tablespoons minced chives 
1 tablespoon olive oil
1/2 tablespoon lemon juice
Directions:
Preheat the grill to medium-high heat.
Season the salmon with salt and pepper.
Whisk together the maple crème syrup, chives, olive oil and lemon juice to obtain a well-combined marinade. Place the salmon in a shallow dish and pour the marinade over it. Turn to coat the other side.
Grill the salmon until flaky and browned, 5 to 7 minutes per side.
Serve immediately with summer vegetables or a salad.
Crock Pot Honey Sesame Chicken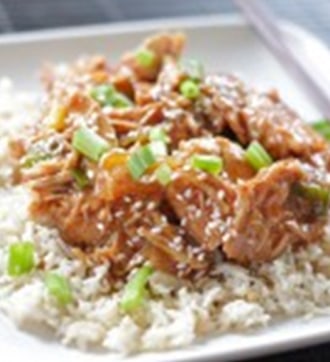 Ingredients:
2 lbs organic chicken breasts
1 large onion, diced
2 garlic cloves, chopped
3/4 cup Michele Honey Crème Syrup
1/4 cup ketchup
1/2 cup low-sodium soy sauce, gluten free
2 tablespoons vegetable oil or olive oil
3 teaspoons arrowroot powder, you can also use corn starch
1/4 cup water
1 Tbsp. sesame seeds
Green onions, sliced
Pepper flakes.
Brown rice to serve
Directions:
Place the chicken breasts into the slow cooker.

Place chopped onion scattered around the chicken.

In a medium bowl, add garlic, honey crème syrup, ketchup, soy sauce, and oil.

Pour the sauce over the chicken in the slow cooker.

Cover and cook on low for 4 hours, or on high for 2 hours until the chicken is fully cooked (when the internal temperature has reached 165 degrees).

 Once the chicken has finished cooking, remove the chicken breasts and place them onto a cutting board, leaving the sauce in the slow cooker.

Shred the chicken into bite-sized pieces. Set aside.  In a small bowl, dissolve 3 teaspoons of cornstarch in 1/4 cup water, add to the crock pot.

Stir to combine with the sauce. Cover and cook sauce on high for ten more minutes, or until the sauce has slightly thickened.

Return the chicken to the slow cooker and toss with the sauce. Serve over cooked brown rice.  Top with sesame seeds, pepper flakes and sliced green onions.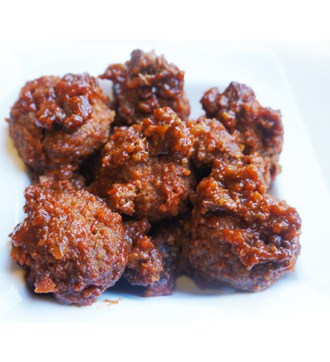 Ingredients:
2 eggs
3/4 cup milk
1 cup dry italian bread crumbs
1/2 cup finely chopped onion
2 teaspoons salt
2 pounds ground beef
8 garlic cloves, minced
2 tablespoons butter
1.5 cups ketchup
1 cup Michele Honey Crème Syrup
6 tablespoons soy sauce
Directions:
In a large bowl combine eggs and milk. Add the bread crumbs, onion and salt. Crumble beef over mixture and mix well. Shape into 1-in. balls. Place in two greased 15-in. x 10-in. x 1-in. baking pans. Bake, uncovered, at 400 degrees F for 12-15 minutes or until meat is no longer pink.

Meanwhile, in a large saucepan, sauté garlic in butter until tender. Stir in the ketchup, honey crème syrup and soy sauce. Bring to a boil. Reduce heat; cover and simmer for 5 minutes. Drain meatballs; add to sauce. Carefully stir to evenly coat. Cook for 5-10 minutes.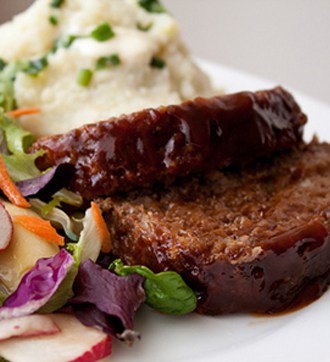 Ingredients:
1 lb. 90% lean ground beef
1 slice white bread, ground to crumbs in food processor -or- 2/3 cup panko bread crumbs
1 tablespoon plus 2 teaspoons Worcestershire sauce
1 tablespoon spicy brown mustard
1/2 cup smoky barbecue sauce, divided
2 tablespoons Michele Honey Crème Syrup, divided
1 teaspoon salt
1 teaspoon black pepper
Directions:
Preheat oven to 350 degrees F. Toss one slice of soft white bread in your food processor and grind it into crumbs. In a large bowl, use your hands to mix together the ground beef, fresh bread crumbs, 1 tablespoon of the Worcestershire sauce, the spicy brown mustard, 1/4 cup of the barbecue sauce, 1 tablespoon honey crème syrup, salt, and black pepper. Shape the mixture into a long, thick log and place in an oiled baking dish.

Be careful not to pack the meat too tightly or you'll end up with a very dense, tough loaf. In a small bowl, whisk together the remaining 1/4 cup barbecue sauce, 1 tablespoon honey, and 2 teaspoons Worcestershire sauce. Spread half of this mixture evenly all over the meatloaf. Reserve the other half for serving. Bake for 45 minutes. Slice and drizzle with reserved honey barbecue sauce.